Studio News: 2021 Winter Performance Update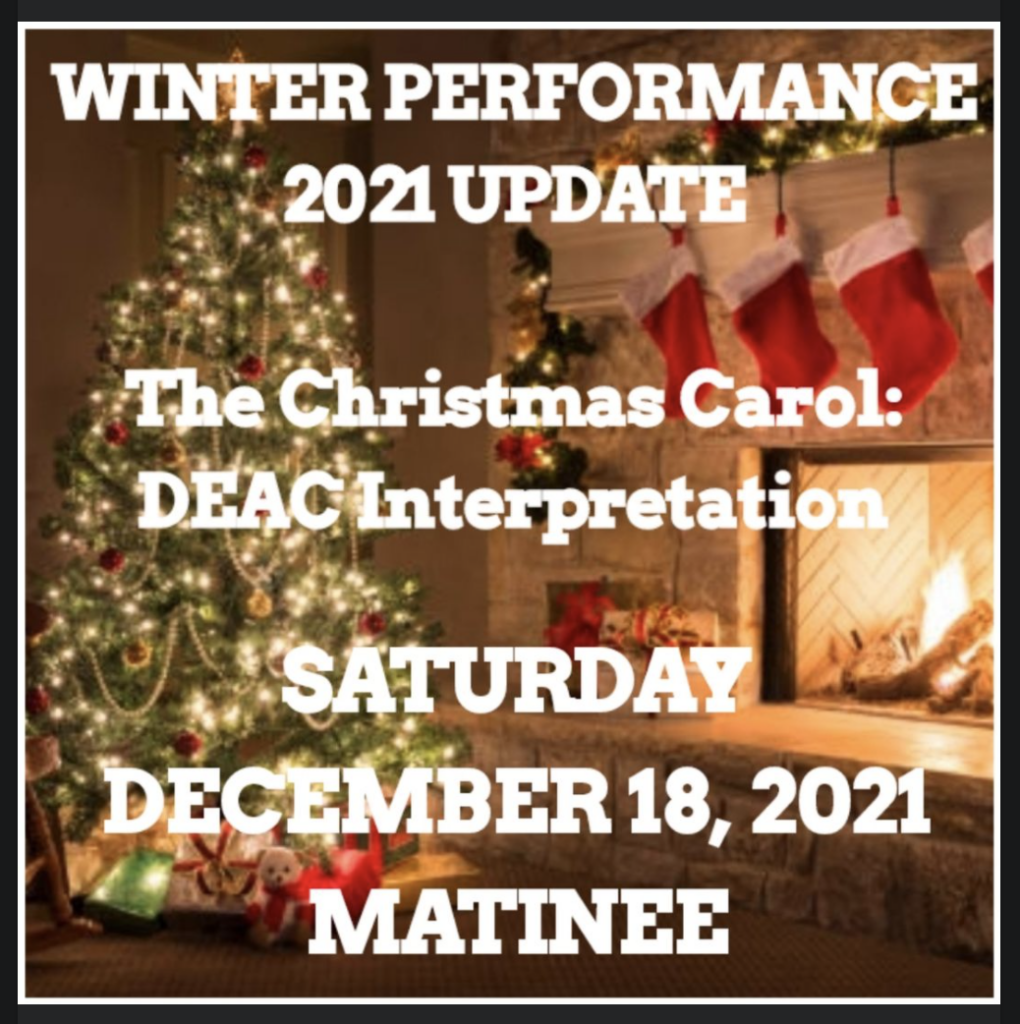 WINTER PERFORMANCE 2021 UPDATE: The Christmas Carol: DEAC Interpretation
Choreography has begun for our 2021 Winter Performance. The Performance date has been updated to SATURDAY, DECEMBER 18, 2021 MATINEES.  The times are TBA.  We have adjusted our date to accommodate our studio size, give more room for social distancing, and the need to possibly have 2 shows. In addition, we had growing concerns over school events that were scheduled for Monday Evening. 
2021 Winter Performance Participation
The following classes will be participating:
Intro to Dance SAT, TUES, THUR
Pre Dance MON, THURS, TUES
LEVEL 1 Combo TUES & THURS
Ballet 2 Secondary
Ballet 2A
Ballet 3C
Ballet 3E
Ballet 4+5
Ballet 6+7
Hip Hop 1+2 Thurs (7p and 7:30p)
Hip Hop 3+4
Lyrical Dance 2A & 2 Secondary
Contemporary 3C & 3E
Jazz 6+7
These showcases are casual events structured to give our dancers additional performance experience & highlights what they are learning in class.  In addition, this is a great "ice breaker" for our little dancers and new dancers to our school.  It provides an opportunity to learn what happens in preparation for a performance, backstage, and while on stage.  the dancers become familiar with our venue, where the bathrooms are located, and senior dancers & staff they may not see on a normal occasion.  
Costume Selections for DEAC's 2021 Winter Performance
The Winter Performance is a "Do-It-Yourself" Concept. The goal is for our families to find what they need from their closets as well as creativity.  The base for all costumes is a black leotard and tights.  DEAC will provide for certain classes: tutus, skirting, bows, hats, jackets, as needed.
Tickets for the winter showcase will begin on MONDAY DECEMBER 6 at 4:30. 
Tickets will only be sold to dance families whose accounts are current. 
Tickets for the event are $10 each and are not assigned.  Please remember the June showcase will have seating selected at the time of purchase. 
IF your dancer is NOT participating, please inform the studio VIA email asap!  [email protected]
Additional information and details regarding costuming, ticket purchases, event times & breakdown will be announced at the end of October. 
Other Studio News
Hip Hop 1+2 Thurs 7:30-8:00
DEAC has opened up HIP HOP 1+2 on Thurs from 7:30-8:00 for new enrollments. 
All students in LEVEL 1-2A are eligible to join the class!  Let us know if we can help you get enrolled!
DRESS CODE REMINDER
Uniformed dancers allow for a better structured & disciplined classroom.  Solid color leotards & tights are required for all classes. Sports bras, bike shorts, dance shorts, or biketards are acceptable for all classes with the exception of ballet.  Leg warmers, fitted cover-ups are permitted during the winter months.  Any outfit, within reason, is acceptable for tap & hip hop provided it does not interfere with movement and provides adequate coverage.  Hair MUST be pulled back for ALL CLASSES.  A bun for ballet is a must and other hairstyles such as a ponytail or braids for other classes.
Intro to Dance & Pre Dance: Leather Ballet shoes, Tap Buckle Shoes, Leotard & Tights. Please make sure your dancer's name is on the outside of their bag and each item has their name or initials inside.\
Ballet:  All ballet classes must wear a leotard & tight as well as hair secured in a bun. 
LEVEL 2 BALLET AND UP:
When signing your child up for ballet, you are signing them up for lessons in discipline & hard work; With that, comes the ballet dress code.  Although it may seem unnecessary to parents or people unfamiliar with the dance world, ballet dress code has been around for centuries.
Why??
Focus & Structure
Mindset of learning
Less likely to be distracted by adjusting their clothing
Hair pulled back securely won't be played with or push out of the face
Teacher can see and correct lines, posture, & placement.
LEVEL 2 & Higher Must wear pink Ballet Tights, a Black leotard, and Pink ballet shoes.  Boys must wear a white T-shirt and black pants and black ballet shoes. 
Shoe Recommendations
Tap: Uni-Sex Black Oxfords? https://www.discountdance.com/search/black-tap-oxfords
Jazz: Block Pulse in Tan? https://www.discountdance.com/dancewear/style_S0470L_html?pid=18482&shop=Style&&skey=adult+bloch+pulse+bootie&search=true&SortOrder=R&SID=1323734999
Jazz/Contemporary/Lyrical: Dance attire including leotards, dance shorts, & foot paws. https://www.discountdance.com/search/paws
Tumbling: Barefeet
Hip Hop: Clean bottom (inside only) shoes
COSTUME DEPOSIT REMINDER
We emailed information regarding our Costume Deposit Info earlier in the month.  Costumes are for our JUNE RECITAL PRODUCTION.   Costume selection for the dance studio begins now & orders are placed in early November to ensure that we receive them in time for embellishment & completion of accessories for picture days March 24-25-26.
Participation in the annual production is optional but highly suggested & exciting.  The entire year of work & improvements for each student is highlighted to share with our families & friends. If you did not receive the information, please let us know!
Costume Deposit #1 is due to the studio no later than November 10 and Costume Deposit Billing will begin on the Parent Portal as soon as mid-October.