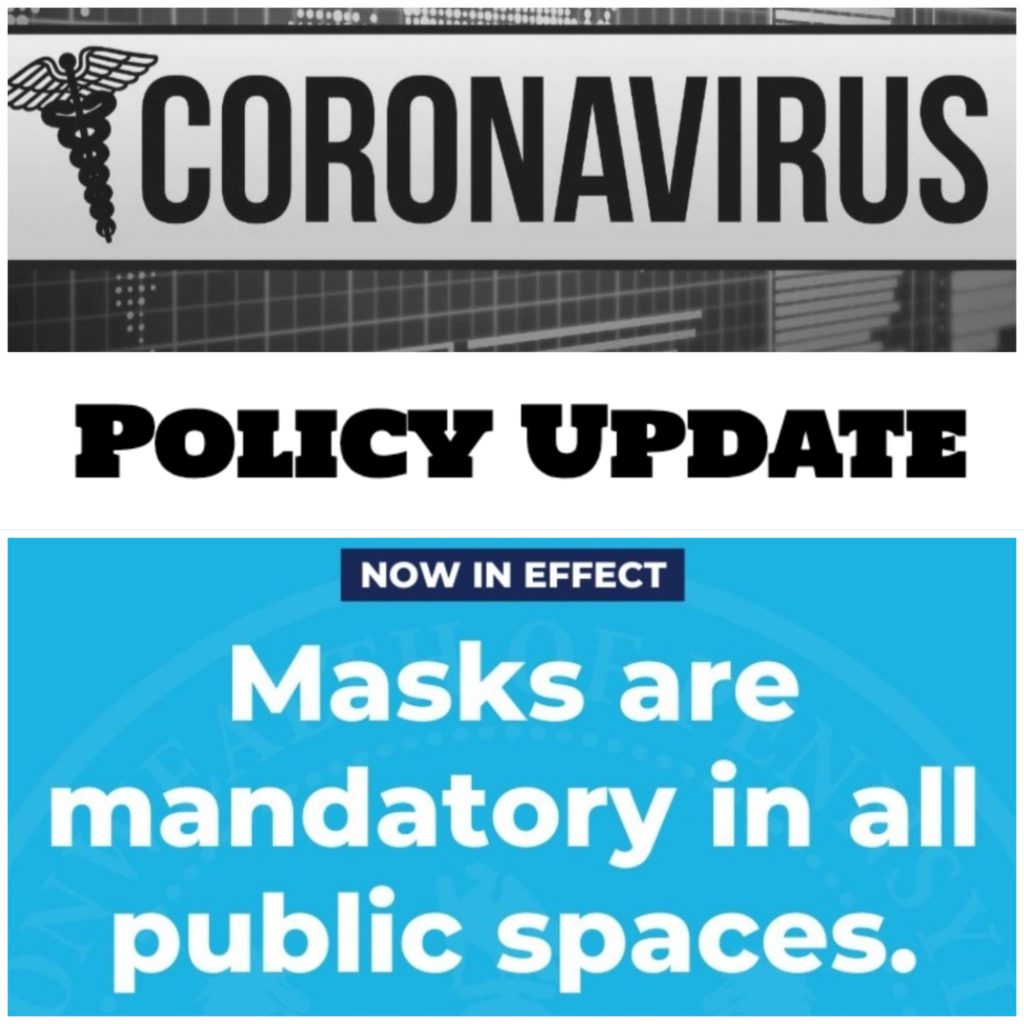 As I am sure many of you now know, masks are now mandatory in all public spaces in Pennsylvania.
Gov. Tom Wolf announced this order last week and it was signed by Secretary of Health Dr. Rachel Levine. The team and I have carefully thought about our process moving forward and how best we can follow the order. There are no technical standards or sanctions specifically for dance studios; therefore, I have read through hours of documentation in regard to child care, sports, education, and last PIAA rules. Although we are NOT a PIAA association, we believe the standards here are appropriate for our setting.
Pennsylvania Interscholastic Athletic Association
Pennsylvania Interscholastic Athletic Association, PIAA, has a clear document on mask policy and we will be following suit.
"Coaches, athletes, and spectators must wear face coverings unless they are outdoors and can consistently maintain social distancing of at least 6 feet. Athletes are not required to wear face coverings while actively engaged in workouts and competition that prevent the wearing of face coverings, but must wear face coverings when on the sidelines, in the dugout, etc. and anytime 6 feet of social distancing is not possible." There are exceptions to the mask order, like if someone has a medical condition or if wearing a mask makes working unsafe. These exceptions also apply to athletes and sports activities.
Therefore, effective immediately, the staff will be adjusting GROUP class structures to adapt which will include mask appropriate activities at the beginning of class during non cardio activities including Ballet Barre, Tap Warm-up, and Flexibility exercises. While actively engaged in workouts, choreography run through, and any cardio inducing activities, mask use will be suspended in group workouts and resume immediately following.
MASKS are mandatory when ALL students enter our building, wait in the lobby before/after classes, and any time they are NOT engaged in workouts.
We ask all students to have a zip lock bag to store their mask when not in use.
We have taped out the floors in the studios, particularly Studio 2 so that each student in Intro & Pre-Dance is spaced 6 ft apart to accommodate for necessary spacing and removal of the mask. We are also asking for each student to have their name clearly displayed on the front of their dance bag and that all belongings fit inside of it. In addition, these classes will not have circle time or across the floor. Class structure has been adjusted to accommodate.
Please review our updated Business Continuity Plan that has been emailed. If you would like to request a copy, please email us at [email protected]
We have been diligent in our disinfecting and sanitizing protocol and classroom adjustments. Overall, our integration has been a success! We have calculated our students per hour/per studio/ per class including teachers & front desk personnel and we are able to keep our numbers below 25 persons at a time within our 4850 sq ft building. On both Tues & Thursdays, we have divided our building so that our 2nd floor is absolutely and completely separate from our bottom floor at all times.
The safety & wellness of our kids, staff, & dance families is our #1 priority. We take our role as leaders for our students very seriously and are taking all the necessary steps to be socially responsible and conscientious of our ever-changing circumstance while providing a fun, inviting, & invigorating experience for our dancers. Thank you kindly for your support! We look forward to seeing everyone back tomorrow and throughout the coming week!